Are you frustrated by looking yourself at the mirror? Does your inner charm has gone? Are you feeling underconfident for not looking attractive anymore?
Well, being fat is not a cool thing.
But it's not a single day that you become fat. It's a result of your unhealthy food behaviour and sedentary lifestyle.
So, if you want to get rid of it as soon as possible, you need to start working right away and towards changing your lifestyle.
This is a challenging task, but, there may not have a better alternative to this. In either way, you need to follow a healthy diet and good exercise habits.
However, if you are thinking of quick results, then a nutrient supplement may help you.
If you are thinking of buying one, kindly research well on that. And for doing your work easy, we are here today.
In this article, we will discuss: why or why not you should buy Primeshred for rapid fat burning.
So, let's calm your queries.
What Is PrimeShred?
For those who are stopped by thinking PrimeShred a muscle-building supplement, here is a surprise.
So, let me clarify. This is not a muscle-building supplement; however, it is best for those aiming to build muscle yet fat creeping them in.
Yes, this is a hard-core fat burner that helps you eliminate fat from every part of your body.
According to the company's claim, it is clinically tested and vegan-friendly, which help you to remove fat by directly acting on your metabolism. Without losing your muscle mass, it will help you burn calories, further, enhancing your mood and energy.
PrimeShred is manufactured in the USA; however, this product is from a UK-based company: Muscle club limited.
With further moving, we will explore whether or not it will provide some benefit without harming your body. Let's dig deeper onto the ingredients.
What Are The Ingredients In PrimeShred?
To provide the maximum results as fast as possible, the company has tested and utilizes herbal ingredients such as green tea extracts, cayenne paper, caffeine and much more.
These ingredients are scientifically-proven to provide quick fat burning results with just one supplement. Let's know all the ingredients one by one, along with their benefits.
Green tea extract is present in the quantity of 500mg. It boosts the functionality of fat-burning hormone norepinephrine and enhances them to act on the stored fat-particles, especially triglycerides.
Green coffee, similar to green tea, have benefits in burning fat. But how?
Green coffee helps enhance the process of thermogenesis and improve the activities of neurotransmitters to keep you motivated, energized and active.
This naturally helps in increasing your metabolic functions to boost fat-burning.
It has a significant role in delaying neurotransmitters' depletion to improve focus or concentration while involved in a tough job.
Acetylcholine is a neurotransmitter that has a fantastic role in biological phenomena like muscle contraction and cognition. DAME helps to boost the level of acetylcholine inside your body to enhance your mood and performance.
Bioperine is another organic ingredient mostly present in our regular black paper. It is present in the quantity of 5mg, which has benefits in improving your body's absorption rate to get most out of this supplement.
It reduces the absorption rate of carbs and fats in the body, enhancing your metabolism. This bio element further improves your mood by increased production of "happy hormones".
This natural ingredient is a type of root which has nearly the same fat-burning role as others. It helps to improve your performance level by enhancing oxygen transportation to the muscles. Primeshred contains about 250mg of Rhodiola Rosea Root extracts.
A vitamin-B complex is a group of vitamins which helps our body in a variety of ways. In this supplement, you will get the benefits of vitamin B3 (15mg), vitamin B6 (1.3mg), and vitamin B12 (24mcg). It energizes your body by removing fatigue and tiredness.
This ingredient is present in a quantity of 200mg. It is another element which aids the rapid fat-loss process by boosting thermogenesis and enhancing your metabolism. It also has a significant role in activating the enzymes and hormones required for our body's burning behaviour.
Primeshred is a vegan-friendly product which makes it a better alternative for those who don't prefer an animal-derived option.
And vegetable capsule is the main ingredient which fulfils the nutrients we get from animal products.
These are the capsules which are manufactured from Hypromellose and entirely plant-based.
Caffeine anhydrous is another herbal ingredient which makes this supplement rich and workable. It naturally improves your metabolism by producing fat-burning hormones and acts directly on the fatty acids present in your fat cells, further enhancing your mood and energy and keeping you awake. It is present in about 225mg.
In short, all the natural ingredients present in this supplement help to improve your metabolic rate by activating the desired hormones and enzymes to act directly on the fat-cells.
But it is clear that you need to take care of your diet and regular workouts, in order to make these ingredients work.
How Does PrimeShred Work?
PrimeShred works along triple ways to provide you with most of the fat-burning experience.
a) It activates your fat-burning hormones and enzymes to release your fat cells for burning.
For understanding the working procedure of PrimeShred, you first need to know how our body eliminates all fats.
Do you ever wonder, where do the flappy fats vanish after a successful weight loss journey? Well, they never go out of the body like that but got melt just like the butter melts on heat.
To make our body work that way, we need to activate our body's metabolic pathways, which will transfer those fat particles into our bloodstreams to use them as an energy source. It is called lipolysis, and this is the first working procedure of PrimeShred.
Ingredients present in PrimeShred are scientifically proven to help your body triggering the essential hormones and enzymes to release fat particles from fat cells.
b) It accelerates your metabolism and thus, boosts the rate of fat burning.
After releasing the deposited fat from the fat cells, they are now ready to be worked as energy. You must know carbohydrates or sugars are those macromolecules which helps our body with energy. However, by taking a good diet and adequate amount of exercise, along with this supplement, will replace sugars with fats to utilize as an energy source.
Here your body will begin the burning process. While your natural fat burning process, PrimeShred will help your body fasten the metabolic rate by its thermogenic ingredients, which upturns your burning process.
c) It improves your focus and energy and makes you experience pure fat burning without muscle loss.
The fat burning process is a challenging moment for your body when you feel restless, tired, and, further, lethargic.
To eliminate such metal struggles and keep you up for the entire journey, PrimeShred will be your partner.
What Are The Benefits Received By Using PrimeShred?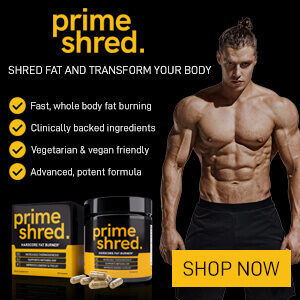 There are lots of pros of using PrimeShred for eliminating fat from your body. Let's discuss on after another.
PrimeShred works directly on your fat cell without harming your muscle groups. In this way, you experience pure fat burning.
It helps to cut that few stubborn fats by enhancing your metabolism.
It improves your energy and mental state rather than making you feel depressed. It keeps you focused and awake, along with enhancing your mood.
All the ingredients in PrimeShred are scientifically tested to work on fat burning and used in a required proportion.
These ingredients are herbal and vegan friendly.
Primeshred is a 100% transparent formula and without soy, gluten, or any dairy products. They even lack GMO, artificial colour, and preservatives.
They fully disclosed the ingredients along with the quantity, and there are no cues of harmful additives.
What Are The Side Effects of PrimeShred?
As it claims, all the ingredients are herbal and used in a measured proportion. They are 100% transparent about no usage of any harmful chemicals or products.
Therefore, it's safe to use PrimeShred for cutting back of fats quickly. However, it depends according to your health conditions and the type of lifestyle. Always ask your physician before starting any such supplements.
Where to Buy It?
You can buy this supplement from the official website: PrimeShred.com. Here you will also get a secure checkout.
What Are Its Money Back Guarantee and Refund Policy?
You will get 100 days of the period to check and decide whether it is worth it. That means they have a 100-days money-back guarantee. They will refund you within 100 days without asking any additional questions.
Final Words
If you want to lose fat faster and look attractive, you can surely invest in PrimeShred.
However, kindly consult your doctor before using any such products as everyone has a different body type and a health condition.
You will get one pack free with every two bottles at a low price along with free delivery.
It is also disclosed that "PrimeShred is also manufactured in an FDA approved, GMP certified facility under the strictest quality control conditions, using only the safest, highest quality ingredients."
You can surely check this out. If it doesn't go with you, you can get your refund without much delay.
If you have any other questions regarding this product, ask in the comment section below.
Click Here to Order PrimeShred from Official Website
Did you like it ♥️ then why not share it with others?